5 Easy DIY Graphics Tools
Small business owners must look good online and that requires easy DIY graphics tools. Have you quit your job and decided to follow your passion? Are you excited about starting your own small business? That's great! But no matter what business you launch, people will judge your business by its cover. And that cover is your website.
When designing a website, you will need a unique logo and stunning graphics to complement your content. Quality images and graphics are important, not just for your website, but also for other promotional mediums such as social media, blogs, and emails. That said, as a small business owner or marketer, you might not have the time to learn graphic designing when you are entirely focused on your core business.
Never worry, whether you are an amateur or a skilled designer, there is always scope to push the bar up and create stunning graphics without even hiring a web designer or investing in expensive graphic tools. Here is a list of simple DIY graphic tools that can make you do just that:
Graphic Design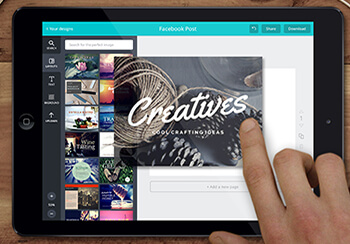 Canva is a great place to start, whether you are looking for inspiring designs for your website, blog, Facebook timeline, banners, invitations, or flyers. This DIY graphics tool makes graphic design incredibly easy for everyone. Just log into the site and browse through a gallery of graphics and photos. Choose the ones that will serve as a visual treat for your audience. Or, upload your own images using the tool's drag-drop feature and edit them as per your choice. Either ways, you're going to come out with impressive graphic designs!
What's more, Canva also features remade templates, an image collage making option, multiple background effects, and a number of editing tools to create your own custom images.
How much will you pay for such a comprehensive tool that helps turn your ideas into a stunning array of graphics? Well, you don't have to dish out a penny. It's FREE.
By the way, if you are looking for more, here's an expert roundup that highlights the best graphic design tools used by pro designers from around the world.
Photo Editing
BeFunky is a three-in-one graphic tool that acts as a photo editor, designer, and a collage maker. Whether you wish to resize your image or apply filters and special effects, this tool lets you get the best photo editing experience. No software download, no payment – it's free and easy to use.
For beginners and intermediates, the site features a list of tips and tricks, and tutorials that explain different ways to create funky photos for any type of online promotion. Make sure to check it out!
Social Image Resizer is perfect for creating custom images for your Facebook, Twitter, LinkedIn, and Google+ promotions. That includes images like your header, cover photo, banners, profile icon, and even your favicon. Save time, money, and look great online with this handy image resizing tool.
Free Images
Splashbase is the place to go for free photos for your website or any other marketing materials. In order to make compelling graphics, you need great photos.
If you want visually-pleasing photos without stealing from other sites (please don't steal) and without paying a penny, Splashbase is your best option.
The free images site features a range of photos free for public use. Some of them are Splashbase-owned images and some are from other sites. Either way, the photos are free to use in your graphics designs.
File Size
Tiny PNG helps your website pages load faster. Compressed images consume less bandwidth and load faster – that's what Google loves. Use Tiny PNG to compress your .jpg and .png files by almost 70% of their original sizes with no visible compromise on their quality. Sounds good, right?
To get an idea of how the images look before and after using Tiny PNG effects, visit the site and take a look at the Panda image on their homepage. Even if you have great eyesight, I bet you won't figure out any major difference in the quality of the two images. Files compressed by this tool are compatible across all desktop and mobile platforms and support all web browsers.
Do You Have Favorite DIY Graphics Tools?
So, which DIY graphics tools do you prefer? Have you tried any of these? Do you have additional suggestions? Please let us know in the comments. Thanks!
Author Bio
Joyce is the writer at designpickle, a website dedicated to building websites, social media graphics, event flyers, brochures, e-book covers, banner ads, signage, and T-shirts for businesses.