Keyword research is a process that many small business owners, and even large company marketing departments, don't really understand. Choosing the right keywords is the cornerstone to a successful online presence. The wrong keyword ensures a SEO campaign cannot deliver results.
Small Business Keyword Research Example
Let's consider a pool company in suburban Houston where its primary customers come from homeowners wanting to build a pool. What keywords should they target?
The term "Pools" can cover many concepts: Pool Company, Pool Builder, Pool Supplies, Pool Maintenance, Pool Care, Pool Repair, Pool Services, Pool Landscaping, Pool Decks, Fountains, Water Features, Pool Cleaners, Pool Equipment, Inground Pools, Above-ground Pools, Spas, to infinity…and beyond!
Even with a limitless budget and full-time department focused on the effort, ranking for all the possible terms is impossible. Even if the pool company could rank for all of them, it is not necessary because likely it has specialties and higher-margin parts of the business it would like to focus on. A search for pool company in Google produces 780,000,000 search results. That's 11 million web pages you have to compete with.
Can the pool company compete? Sure, but many factors must be considered to select a keyword(s) and build and SEO strategy that can deliver results.
There are 780 million competing web pages…that's approaching a billion!
Competing sites are more than just pool companies that primarily build pools. They are pool maintenance, equipment manufacturers, equipment wholesalers, perhaps even landscaping companies and how-to sites.
Top ranking websites (the ones on the first or first few pages of the search results) likely are using at least some optimization strategies.
Some ranking sites may be known industry brands and may receive search results preference in national searches.
Ranking sites have had a head start as they may have had a website for a long time.
They probably have large number of natural links from diverse sources, meaning people are linking to them without being asked and thus giving them "authority" in the search engines' eyes. Especially if they have gained links from trusted sources (such as Wikipedia, government agencies, major news network sources).
Ranking sites usually have many pages of content, some, if not most of it may be optimized, but all content counts.
So, you can see there are many things to consider before even choosing which keywords to analyze, much less selecting a keyword(s) to optimize your website. For businesses like a pool company, local optimization makes sense. The target might be a community, town, county, state, or region. By geo-targeting a keyword with a location, you are more effectively targeting the customer base that is most likely to buy from you. And you decrease the number of competitors. So you can reduce the cost of ranking for a keyword and get faster results…and in most cases you are setting yourself up for success because going too big too soon is not achievable.
Tip: If your business is "local", getting its customers within 100 miles or so from its location, then you can apply your keyword research to special guidelines for local SEO. .
Keyword Research for Small Business
Let's examine a preliminary keyword analysis for a far west Houston pool company as an example. Actually, the pool company is located in a town called Katy that is part of the metropolitan Houston area. So while many Katyites will look for pool builders in their immediate area, the pool company can serve the greater Houston area. The example below was produced using Google's Keyword Planner tool with the geographic target set to "Houston, TX". Tip: use the negative keyword option to exclude keywords that add confusion to your analysis like "pool table" or "pool party".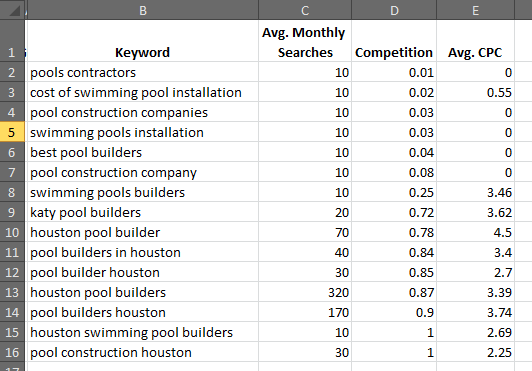 Even though katy pool builders is searched less often than houston pool builders, optimizing for the more specific geographic keyword would likely provide higher traffic and stronger conversion rates for the pool company, especially since the pool business owner knows there is a strong sense of local community in Katy, TX. Adding a specific geographic location further targets the customer base. Another reason to target katy pool builders over houston pool builders is that even though both are competitive keywords, Katy has lower competition and thus it will likely require less investment to rank for it. Frequently, the more specific the geographic location, the lower the competition. Each time you choose a keyword with a narrower focus, you can expect faster results and lower costs to rank. This is called choosing long tail keywords.
The higher the competition percentage, the more it is going to cost and the more time it will take to achieve desired results. So if you are looking for a business to get into, probably building pools in Texas, especially in the Houston area, would not be the easiest to break into. The reason these keywords are competitive is that there is a lot of profit to be made in these businesses in the geographic areas. And if you could rank for these keywords, it would provide a lot of traffic to your website. Just remember you will have to patiently wait for a return on investment (ROI) when the competition is high…much like the offline world. So what do you do if you need to get started and bring in business sooner and with less cost?
Start smaller. Choose one competitive keyword and then target less competitive keywords that are related to that concept and geography (if geography is applicable).
BONUS: How to Use Keyword Planner Tool
Don't let the keyword planner tool scare you! You can do it. Check out this video.
Starting Small Has Its Benefits
It seems counter-intuitive that a smaller target customer base can result in higher sales. But when it comes to a SEO campaign, this is almost always the case. If a small business is unwilling to start small and trust the process of ranking for lesser competitive keywords to work they way up to higher competition keywords, it will meet with many challenges:
It will take a long time (think years) to see results.
Return on investment (ROI) is delayed, possibly so long that the company does not survive.
Less web visibility will continue for a long time.
Rank locally or for longer keyword phrases specific to your business. (Keyword phrases are often referred to as long-tail keywords; the longer the tail, usually the lower the competition). Gain website visibility. Learn a smaller, less-costly SEO campaign. Build up profits from business generated from the smaller campaign. Use those profits to invest in more competitive keywords. You may find that you only need to maintain your local keyword ranking as it may provide enough business. Of course, if your business is not geographically based, then the approach is to rank for longer tail keywords then work up to more competitive keywords. For example, you may have to start with first edition antique books before you can go after antique books. It all depends on what your keyword analysis reveals.
Here is why long-tail keywords work. If someone is searching for a product or service using geography or some specialist aspect of your business (first edition antique books), they are probably in the state of mind to buy. They are high-quality sales leads. However, if a person is searching for pools, they may be just looking for pool design ideas. But when they get ready to hire someone to build the pool of their dreams, they are likely to be much more specific, katy pool builders.
Another strategy to finding lower competition, more achievable keywords is to look for synonyms. In our pool builder keyword analysis, it appears there are many opportunities. Sometimes it is hard for a business owner to think of synonyms that may be used so a helpful tip is to ask 2-3 people that don't know the business well about what search terms they might use if they were planning to build a pool and were looking for someone to do it for them…be careful not to use words like "company", "contractor", etc. when you ask them so that you don't influence their ideas.
In the keyword analysis above, notice the lower competition keywords such as pool contractors and pool construction companies. These search terms are relevant and seem to point to someone looking for a business to build a pool. The extremely low competition means that it will likely take less time and investment to rank for 3 or 4 of those low competition keywords and they will provide you the same traffic possibilities and one of the higher competition keywords. Even if the search volume is lower, you will have a greater chance of ranking for the lower competition keyword. Then, build up to higher competition keywords.
If you want to run a marathon, you must start by competing in short races. You learn from those races and build up strength so eventually you can compete in a marathon. And, I doubt you will win the first marathon so you keep building on your successes. It is the same with SEO. It takes effort and investment.
Does SEO and keyword research end after a keyword ranks?
So, after a year or so, the pool company is ranking consistently for targeted keywords. Local search results are working well in Houston and even in the suburb, Katy. Since Google produces results based on a user's geographic location, all has been going well. So, they are done, right?
Well, no. Even if they have enough business with the right customers and don't need to rank for a different keyword (unlikely), failing to maintain the keyword ranking will allow its competitors to catch up and overtake its current success online. Part of the search engines' algorithms is to evaluate the "trend" of a website. If the increase in number of links referring to the site each month and even social media mentions and engagement drop, it can result in a website losing ranking. So SEO investment in creating great content continually and generating interest to link to it continues.
Of course, most businesses will add more competitive or a broader list of keywords to grow the business. It is tempting to shift the SEO budget from the successful keywords to the new keywords, but that would be a mistake. With the successful keywords bringing in revenue, your business should be able to support additional budget for the additional SEO effort required to target more keywords. You may get lucky and be able to reduce the budget a bit for the successful keywords particularly if links are naturally referring at a consistent rate, but you will always need to produce quality content, if not for your customers who need new information, then for the search engines who punish those who don't produce new content.
New keywords require new research, re-optimizing existing content and website structure to include the new keywords and content. And a new set of keywords means in one sense that you are starting over so a full campaign to develop more links referring to your website is imperative. The more different the new keywords are, the longer it takes for results. For example, if our pool company adds pool builder houston tx and pool contractor houston tx to its target keywords, the effort required for success is relatively low. But if the company chooses pool hardscaping houston tx or pool decks, it will take longer because the concepts are more dissimilar to the original keywords.
Lessons to Consider
Keyword research is the cornerstone of SEO. SEO is a complex process that incorporates many SEO ranking factors.
Small business keyword research is a topic that owners must take the time to understand. It will help them trust their SEO company or their staff who performs SEO. If the owners understand the counter-intuitive nature of keyword research, they can be a part of the conversation and creativity rather than an distraction that causes compromise that hurts the potential for success.
Know your business and your goals. Understand what SEO can and cannot do for you. Use marketing strategies to understand how customers talk about your business and search for you online.
Be realistic with what you try to rank for. Just like in real estate, popular areas are more competitive; so expect to pay higher prices for geographically competitive SEO campaigns. SEO takes time. You should see some improvements in the first couple of months because quality SEO is about increasing peoples' exposure to and attraction to your website, but ranking high to gain the benefits of appearing in many organic search results will take months.
Expect to have SEO as a permanent budget item and consider it a long-term investment that will pay for itself. You would never stop keeping up with advances in your field nor abandon understanding your customers' needs, why would you ever stop investing in your online presence? Do the keyword research. Participate fully.